In the cooler months soups can be a great way to warm up. Here are some soup recipes that are high in protein so they'll fill you up for longer.
Broccoli Soup: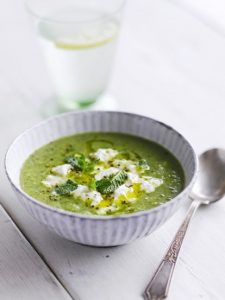 Takes: 20 mins
Serves: 3
Ingredients
1 clove of garlic
2 sticks of celery
400 g broccoli
½ a bunch of fresh mint
olive oil
1 litre salt-reduced chicken or vegetable stock
500g reduced fat ricotta cheese
Method
Peel and finely chop the garlic. Trim and roughly chop the celery and broccoli. Pick the mint leaves, then finely chop most of them, saving a few baby leaves to garnish.
Heat a splash of oil in a pan, then soften the garlic and celery for about 2 to 3 minutes, then add the broccoli and stock. Continue cooking for another 5 minutes, then blitz with a handful of mint in a food processor.
Season and then crumble over the ricotta and scatter with the reserved mint leaves to serve.
Adapted from Jamieoliver.com
Lamb & Barley Soup: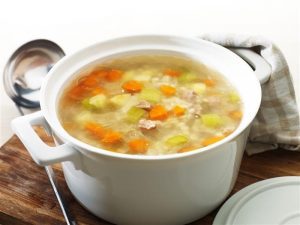 Time: 1 hr 20 mins + overnight cooling
Serves: 6
Ingredients
500g lamb off cuts (on the bone)
1 carrot, chopped
1 stalk celery, including the leaves, chopped
1 potato, chopped
1 onion, chopped
1 tsp dried Italian herbs
1/2 cup barley
1 tsp reduced-salt vegetable stock powder
Pepper, to taste
Method
Cut any visible pieces of fat off the meat and discard.
Place all ingredients in a medium saucepan. Add 1.5 litres of water to completely cover the ingredients. Add more if needed. With a lid on, place the pan on a high heat until boiling. Reduce the heat to low and cook for 1 hour or until the meat is easily pulled from the bone.
Take off the heat and allow pot to cool for 20 minutes. Place the covered pot in the fridge to cool overnight. Remove the visible fat from the top with a spoon and discard. Remove the meat from the bones and discard the bones.
To serve, warm the soup over medium heat for 10-15 minutes until heated through.
Adapted from livelighter.com.au