Marvellous Mushroom Recipes
Did you know that mushrooms contain vitamin D. Most vitamin D in our bodies is made in our skin when we go out into the sunlight but mushrooms are one of the few foods sources of vitamin D. Try out some of these mushroom recipes to get a little more vitamin D in your day.
Blasamic Glazed Mushrooms
Takes 10min
Serves 2
Ingredients
2 cloves garlic, crushed
1x 200g punnet sliced mushrooms
2 tsp balsamic glaze
olive oil
Method
Heat a drizzle of olive oil in a large frying pan over medium-high heat. Add the garlic and sliced mushrooms and cook, stirring regularly, until browned, 3-4 minutes. Add the balsamic glaze and cook, stirring, until coated, 1-2 minutes. Season to taste with salt and pepper. Serve over a lean steak or roast beef.
Adapted from hellofresh.com.au
Pesto Breakfast Mushrooms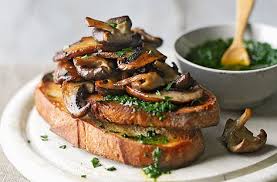 Takes 25min
Serves 4
Ingredients
250 g punnet cherry tomatoes, halved
1 tbs balsamic vinegar
4 large flat field or Portobello mushrooms
1 tbs basil pesto
basil leaves, torn, to serve
Method
Preheat oven to 180°C (160°C fan forced). Place tomatoes on a tray lined with baking paper and drizzle with vinegar. Trim mushroom stems and spread pesto onto the underside of the mushrooms. Add mushrooms to the tray and bake for 20 minutes. Serve mushrooms and tomatoes immediately with basil leaves and eggs or wholegrain toast.
Adapted from livelighter.com.au
Baked garlicky mushrooms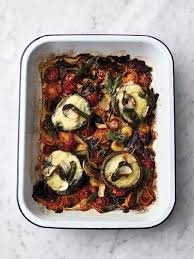 Takes 30min
Serves 2
Ingredients
4 cloves of garlic
½ a bunch of fresh sage , (15g)
350 g ripe mixed-colour cherry tomatoes
4 large portobello mushrooms
40 g Cheddar cheese
Olive oil
Red wine vinegar
Method
Preheat the oven to 200ºC. Peel and very finely slice the garlic. Pick the sage leaves. Halve the cherry tomatoes.
Peel the mushrooms, reserving the peel. Place it the mushrooms (peel included), tomatoes, sage and garlic in a 25cm x 30cm roasting tray and drizzle with 1 tablespoon each of olive oil and red wine vinegar. Add a pinch of sea salt and black pepper and toss together. Sit the mushrooms stalk side up. Bake for 10 minutes.
Remove the tray from the oven, crumble the cheese into the mushroom cups and return to the oven for 15 more minutes, or until the cheese is melted and everything's golden, then dish up.
Adapted from jamieoliver.com