Stay Tuned for a Ranga Foundation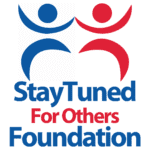 The 'Stay Tuned for a Ranga Foundation' is born from a deep understanding of the challenges of being different, as our Director, Paul Hermann, knows all too well. Growing up as a tall, fair-skinned, slender, and freckled redhead, he experienced the creativity and unkindness of children inventing nicknames for those who stand out. While the challenges faced by red-haired children can't equate to those stemming from discrimination based on race or other factors, it can still create a solitary and demanding school experience for any child.
Now, as the Director of two thriving allied health clinics, Paul has matured and learned to embrace his unique qualities. He's dedicated himself to helping the 'Orangutans' of Borneo who cannot fend for themselves. This dedication forms the core philosophy of the Stay Tuned organization: "Everybody Deserves to Feel Good."
In 2017, Paul's passion led him to volunteer with the Borneo Orangutan Survival Foundation in Samboja Lestari, Borneo, to support these remarkable creatures. The Orangutans of Borneo are our "kids." Tragically, only around 50,000 Orangutans remain, and we lose between 3,000 and 5,000 of them each year, primarily due to the loss of their natural habitat.
The 'Stay Tuned for a Ranga Foundation' raises essential funds, all donated to the 'Borneo Orangutan Survival (BOS)' for projects that safeguard, rehabilitate, and reintroduce Orangutans into the wild. A portion of every consult fee goes towards adopting Stay Tuned Orangutans, making it possible for everyone to contribute to this vital cause.
Stay Tuned has proudly become the adoptive parents of seven Orangutans: Meryl, Cinta, Jumbo, Miko, Valentino, Taymur, and Jelepat. Your unwavering support allows us to be change-makers in a world where "EVERYBODY Deserves to Feel Good."
Borneo Orangutan Survival (BOS)
It costs $9,450 to release one orangutan back into the wild, and the goal for BOS Australia is to raise enough money to release more orangutans every year. If you can help, please visit their website now at www.orangutans.com.au to donate.