The 'Stay Tuned for a Ranga Foundation' plays a crucial role by raising essential funds, which are fully dedicated to supporting the 'Borneo Orangutan Survival (BOS)' for their projects focused on safeguarding, rehabilitating, and reintroducing Orangutans into their natural habitat. Additionally, a portion of every consultation fee goes towards adopting Stay Tuned Orangutans, making it accessible for everyone to contribute to this vital cause. Discover the latest updates on our adopted orangutans below!
Monyo's Transformation: From Timid to Independent
Monyo, a young male orangutan in Forest School Group 3, has come a long way. Once timid and dependent on his surrogate mother's care, he exudes confidence and independence. Monyo is curious about new people but observes them from a distance while safeguarding his personal space.
His surrogate mother notes that Monyo rarely cries out these days. His only complaints arise during fruit distribution time in Forest School when he can't get his hands on his beloved bananas and corn.
Monyo displays a keen sense of when to play alone and when to join his friends. He interacts well with other orangutans his age, particularly enjoying the company of Dalilah and Hanua, fellow group members. They engage in puddle play after rain and compete at scaling tall trees, relishing their time together.
Young orangutans engage in playful activities that contribute to their cognitive development, like human children. They swing on vines, climb trees, wrestle with each other, and explore objects in their environment.
After securing his share of fruit during distribution, Monyo seeks out a comfortable spot to savour his bounty in solitude, undisturbed. Rest assured, Monyo, your favourite fruits are safe with you.
© BOS Foundation, [October 2023]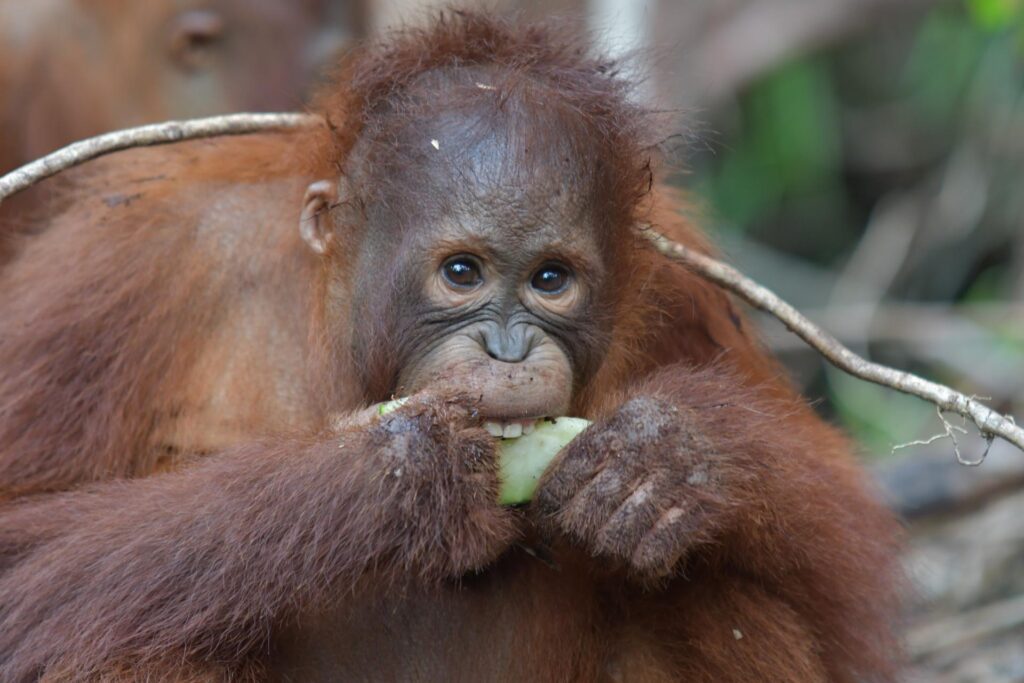 Lonely Taymur Seeks Companionship
In the Nyaru Menteng clinic complex, young Taymur finds himself in quarantine. Most days, he engages with branches provided by our technicians, though a tinge of sadness is evident. Taymur longs for his days in Forest School, where he relished adventures with friends.
His solitude was briefly interrupted when Jumbo moved into the adjacent enclosure in July. They cautiously interacted, often peering at each other through small partition holes. Taymur extended a branch in friendship to Jumbo, and they joyfully exchanged leaves and branches. Sadly, Jumbo was recently relocated to a pre-release island, leaving Taymur alone once more.
A surprise visitor, Greta from Group 3, went to Taymur's enclosure, taking his food and enrichment. Remarkably, Taymur remained non-aggressive, allowing her to do so.
When offered fruit by our technicians, Taymur eagerly consumes a substantial amount. Sometimes, he places the fruit on leaves for later, though it occasionally falls through the enclosure bars to the ground below.
Discontent with his current situation, Taymur eagerly anticipates his turn to move to a pre-release island. Hang in there, Taymur; your time will come soon!
© BOS Foundation, [October 2023]