Have FUN with fruit!
Fruit is a great natural source of vitamins, fibre and energy. The Australian Guide to Healthy Eating recommends that most people eat 2 servings of fruit every day. Try out the recipes for some new and different ways to eat fruit.
Strawberry and Kiwifruit Popsicles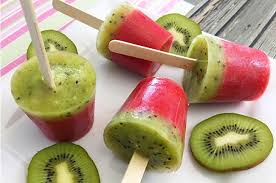 Takes 5min + freezing time
Makes 6
Ingredients
· 6 plastic cups + 6 popsicle sticks (or an icy pole mould)
· 250g strawberries, hulled and sliced
· 2 kiwifruit, peeled and chopped
· 1 ½ cups orange juice
Method
Drop strawberries and kiwi fruit into each disposable cup or icy pole mould. Pour orange juice over fruit, add a pop stick to each cup and freeze until set. Run under hot water to remove from cup or mould.
Adapted from livelighter.com.au
Frozen yogurt layer cake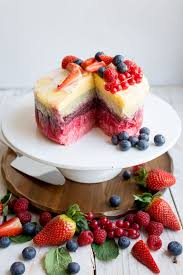 Takes 15min
Serves 12-16
Ingredients
· 250 g strawberries
· 16 tablespoons natural yogurt
· 250 g banana
· 250 g raspberries
· 250 g blueberries
· 250g blackberries or cherries
Method
Line a loaf tin with cling film. In a blender or food processor, blitz the strawberries with 4 tablespoons of yogurt. Pour the fruit mixture into the tin and place in the freezer for at least 15 minutes.
Meanwhile, rinse out the blender or food processor, and blitz the bananas with another 4 tablespoons of yogurt. Add this layer to the tin and return it to the freezer. Repeat with the other 2 types of fruit and remaining yogurt. The cake is ready as soon as the top layer is hard, but you can keep it in the freezer as long as you like. Slice the cake while still frozen and serve with berries.
Adapted from jamieoliver.com
Blueberry Banana Bread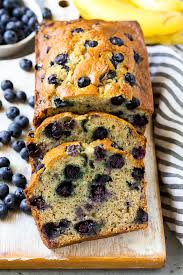 Takes 75min
Serves 9
Ingredients
· olive or canola oil spray
· 4 ripe bananas, peeled
· ¼ cup sugar
· ½ cup low-fat milk
· 2 eggs
· 1 cup self-raising flour
· 1 cup wholemeal self-raising flour
· 1 tsp ground cinnamon
· 1 cup frozen blueberries
Method
Preheat oven to 220ºC (200ºC fan forced). Spray a 20 x 10cm loaf tin with oil; line base and sides with non-stick baking paper. Reserve one whole banana for presentation and mash remaining 3 bananas in a large bowl (1½ cups mashed).
Add sugar, milk and eggs and mix with a fork until well combined. Sift flours and cinnamon on top of banana mixture. Mix ingredients together until just combined, taking care not to over-mix, then gently fold through blueberries.
Spoon mixture into prepared loaf tin and smooth the surface. Slice remaining banana thinly and overlap slices through the centre of the loaf. Bake for 35-40 minutes then cover with foil and bake for a further 20 minutes. Centre of loaf will remain moist but not wet when tested with a skewer. Allow to cool in tin for 5 minutes then turn onto a wire rack. Cut into 1 slices before serving.