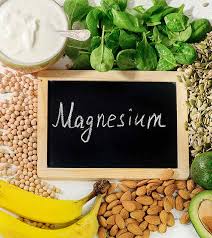 What is Magnesium?
Magnesium is a mineral that you need every day for good health.
Magnesium helps you take energy from food and make new proteins.
It is also an important part of your bones, and helps keep your muscles and nerves healthy.
Some people find that magnesium-rich foods or supplements help to reduce their cramping and muscle soreness.

The best sources of magnesium are legumes, nuts, seeds, fish and whole grains.
How much Magnesium should I aim for?
** Magnesium from supplements should not exceed 350 mg per day. It is safe to consume more than your daily magnesium needs from food.
How can I get enough Magnesium without taking supplements?
The following table shows you which foods are good sources of Magnesium.
| | | |
| --- | --- | --- |
| | | |
| | | |
| | | |
| | | |
| | | |
| | | |
| | | |
| | | |
| | | |
| | | |
| | | |
| | | |
| | | |
| | | |
| | | |
| | | |
| | 100g | |
| | | |
| | | |
| | | 95 |
| | | |
| | | |
| | | |
| | | |