Vegetable Muffins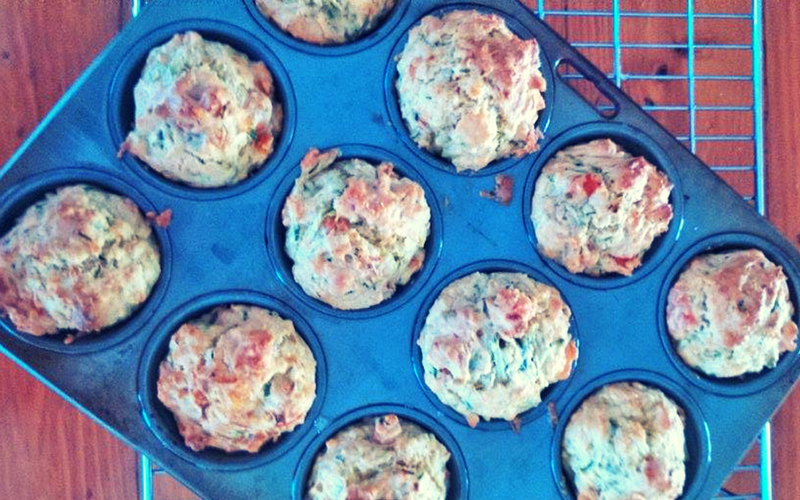 As a dietitian I see a lot of people struggle to include vegetables in their diet. These muffins are a great way to mix and match your own favourite vegetables, or use up whatever produce you have left over. Plus, they're delicious!
Makes 12 prep time 20min, cooking time 20min
Ingredients
Method
1 cup of Self Raising Flour

1 cup wholemeal flour

½ teaspoon baking soda

¾ teaspoon of salt

¾ cup of grated cheese

½ cup of milk

3 eggs, lightly whisked

60g of melted butter

3-4 cups of vegetables*

1.      Preheat oven to 210◦c and thoroughly grease a 12 case muffin pan

2.      Sift flour and salt together in a large bowl. Add vegetables and cheese, toss to combine until all vegetables are well coated

3.      Whisk milk, eggs and butter. Pour mixture into the centre of the vegetable mix.

4.      Fold together until just combined. (overmixing may cause tough muffins)

5.      Spoon mixture into prepared tins and bake for 20 minutes or until an inserted skewer comes out clean.

* Here are some of my favourite vegetable combinations. But get creative, find your favourites!

·         Roast sweet potato, grated zucchini and chives

·         Grated carrot, zucchini and corn

·         Cherry tomatoes, mushrooms and corn

·         Caramelised onion and roast pumpkin
Corn and Zucchini Fritters with Homemade Salsa
With 6 different veggies this meal is packed with nutrition and is delicious to boot! Not to mention quick and easy to whip up, what's not to love?
Ingredients:
Fritters: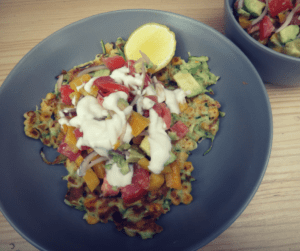 1 large zucchini, grated
1 420g tin of corn kernels
½ cup of plain flour
1 egg
Extra virgin olive oil for cooking
Salsa:
½ red onion, finely sliced
2 small tomatoes, diced
1 avocado, diced
½ medium yellow capsicum, diced
Juice of half a lemon
Greek yogurt, to serve
Method:
Salsa:
Add chopped onion, tomatoes, avocado and capsicum to a bowl
Add lemon juice and stir to combine
Fritters:
Mix grated zucchini, corn and egg until vegetables are evenly coated
Gradually add flour ensuring all ingredients well coated
In a fry pan add a small amount of extra virgin olive oil
Over a medium flame, add approximately 1 tablespoon of vegetable mix to fry pan and flatten out
Cook on each side until golden brown
Serve fritters with salsa and Greek yogurt