Osteopathy in Elwood
Osteopaths treat a wide variety of musculo-skeletal problems such as back pain, and other functional disorders of the body such as asthma. Our Osteopaths focus on more than just treating your symptoms; they will also determine their cause. This results in fewer treatments and a more effective and long lasting outcome. Treatment is tailored to each individuals needs and may involve a variety of gentle manual techniques, including soft tissue massage, joint mobilisation or manipulation, and gentle joint articulation.
Download Brochures: Aches & Pains | Are Your Injuries Holding You Back?
---
How will our Stay Tuned Osteopathy in Elwood Team help?
Our Osteopathy team have various treatments and enjoy working with a variety of ailments and conditions. These conditions can include;
Back and Neck pain
Headaches and Migraines
Sporting Injuries
Hip, Knee and Ankle Injury
Asthma
Digestive Problems
Muscular Strains
Period Pain
Work Related Injuries
Postural Problems
Repetitive Strain Injuries ( RSI )
Arthritis and Joint Degeneration
Shoulder, Elbow and Wrist Pain
Sciatica
In conjunction to hands on treatment, our Osteo team can provide advice on desk positioning, posture and can provide home based exercises to maintain your long term health and wellbeing. These additional treatment options make sure that you are looked after from head to toe.
---
What training does an Osteopath do?
Osteopaths undergo 5 years full time training in one of 3 Universities in Australia. The training consists of either a 3 year degree in Clinical Science followed by a 2 year Masters in Health Science, or a double degree in Applied Science and Osteopathic Science. All our Osteopaths are registered with the State Registration Board of Victoria and are members of the Australian Osteopathic Association.
---
What to expect from our Osteo in Elwood?
Everyone has a different experience when visiting our Osteo team. Clients can receive a variety of treatment options including massage, manipulation, dry needling, mobilisation techniques and exercise advice. Each practitioner has their own treatment techniques they prefer to use. They understand one size does not fit all and alter their style to match you as an individual.
Your treatment will depend on your conditions and the Osteopath's recommendation. If there is a treatment that you are not comfortable with, they will use a different treatment option to achieve the same great results.
Do I have to get my joints cracked?
Joint manipulation is just one of the many treatment tools your Osteopath has in their toolbox. Our Osteopaths are skilled in many different treatment techniques so each treatment is tailored to your needs and your condition and all aspects of your treatment will be discussed with you during your consultation.
Referral requirements
Seeing our Elwood Osteo Team does not need a referral for private consultations. To receive rebates or have the cost covered you will require a referral. To receive a Medicare rebate, you will require a GP referral under a care plan. DVA, Worksafe and other government based sessions require a referral from you GP or treating specialist.
---
What will it cost for an Osteo Consult?
Initial consultations take 45 minutes and begin from $99.
Subsequent consultations are 30 minutes and begin from $90.
Out of pocket cost varies on your Osteopath and length of consultation.
---
Are rebates available for seeing our Osteopaths?
Yes, Medicare rebates are available with a GP referral. Some private health funds may fund sessions with an Osteo. As each fund is individual, it is best to check if you are covered. Rebates vary depending on your fund and level of cover.
DVA, Worksafe and other government funding is available for Elwood Osteopathy. These require a separate process and approval from the funding organisation. Speak to your health practitioner for more information.
---
Osteopath Near Me – Our Location
Elwood Wellness Centre
Shop 6/122 Ormond Rd, Elwood 3184 VIC
(Enter from Docker Street)
Phone: +61 3 9531 0909
---
Directions to our Clinic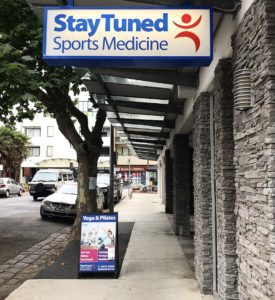 We are centrally located in Elwood with the entrance to our Wellness Centre on Docker Street. There is plenty of parking available and we are easily accessible via public transport if required with the Elsternwick train station just around the corner or make use of bus 600 or 246.
---
Opening Hours for Osteopathy in Elwood
We offer flexible times that can meet your needs from 7am to 9pm, see our practitioner hours or call our Elwood Wellness Centre to find a time that is suitable to your needs +61 3 9531 0909
| | |
| --- | --- |
| Monday | 7am – 9pm |
| Tuesday | 7am – 9pm |
| Wednesday | 7am – 9pm |
| Thursday | 7am – 9pm |
| Friday | 7am – 7pm |
| Saturday | 8am – 2pm |
| Sunday | Closed |
---
What our Clients say – Google reviews


I've always been motivated and had no trouble going to the gym. However, after over a decade of doing weights I noticed I started to have some lower back problems. After doing a bit of yoga, I did start to develop a higher interest in my flexability, rather than building up my muscles.

After seeing Paul, I was amazed at the science/knowledge that Paul had in regards to a person's core strength and how much lack of awareness I really had about this. My body had become stiff like a ruler, I was so inflexible. I actually never properly engaged my core or my glutes and how this really affected technicque in so many common place gym exercises. I suspect a lot of guys have these same issues, we're not normally taught these types of things.

Before seeing Paul, I used expensive personal trainers which I now realise a lot of have no depth in terms of how a personal actually engages their core and/or if a person is putting too much load on ones lower back and their general flexability.

The programs are difficult for a reason, but really challenge you and you can feel your body really getting stronger in so many ways that you have never even with not lifting any weights.

The science and depth behind these guys is really valuable, they are really passionate and a real benefit to the Health and Fitness industry.
Adriano Bonina



Stay Tuned Osteo's, Physio's & MYOS have kept me on track and injury free during my health & fitness journey. Highly recommend!

Very friendly and nothing is to hard. They go out of their way to make you feel welcomed. I have 8 years up now and still continue to go there! Great place.

They do a great job and really seem to care about you.