Now the days are shorter and nights cold, the author of this article is excited. Why? SNOW SEASON is here! And what a season it is so far!
In this weather i believe there are very few better ways to spend a Sunday arvo than sitting in below zero temperatures as the lift whisks you to the top of the summit….like a small child eagerly awaiting the arrival of Santa Clause, to race to the bottom, and then do it all again. The excitement is palpable …BUT this day should not come without preparation.
Some stats: In Victoria between 2004 and 2006 there were 1404 hospital treated injuries, 817 of these were hospital admissions and 587 emergency department presentations related to snowsports. A staggering 75% of all reported injuries were from falls. And for those snowboarders such as Paul …58% of them were you guys! (www.monash.edu.au/muyarc/visu)
So how do we reduce the likelihood of adding to these statistics and cutting our season short? Simple- preparation! By performing a set of specifically designed regular exercises and ensuring our bodies are in the best condition to tackle the tough terrain the mountain can throw at you.
Falls occur in everyday life but on the slopes they occur more frequently. On snow we require more balance, strength and endurance to last the day and not slip and fall on the way home.
Some basic preparation of your body can help you make turns, survive the day and still have the leg strength to walk to the car, or chalet, at the end of the day. And to do it all again the next day.
Below are a few home based exercises which will suit both skiers and snowboarders. Like all exercise programs you should consult a health professional before starting if you have any issues or pain. Some exercises may not be suitable for all people.
The Squat & The Lunge
– both these exercises are good general strength exercises for the thighs and gluteal muscles.
Swiss Ball Squats
– great for the gluteal and thigh muscles.
Pilates Side Bridge Beginner
-great for general trunk strengthening and postural trunk control
Pilates Side Bridge Advanced
-great for advanced trunk strengthening and postural trunk control
Swiss Ball – Four Point Kneel
-this advanced exercise improves reactive control and balance of the lower limbs and trunk.
Swiss Ball Seated Straight Leg Lift
-this exercise helps improve trunk and leg balance and muscle control.
Swiss Ball Calf Raises
– helps strengthen the lower leg/calf musculature.
Swiss Ball Windscreen Wipers
– this exercise is effective for strengthening the trunk and the groin muscles in a rotational direction similar to that required during turns.
Leg stretches are really important but make sure your muscles are warm before stretching.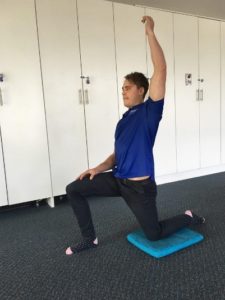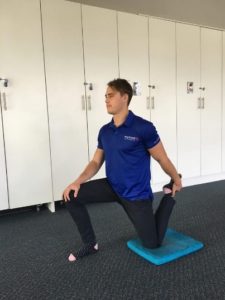 Paul has a special interests in treating and preparing skiers and snowboarders having worked with professionals in Japan many times
He and our team of practitioners can complete a full assessment and analysis of your strengths and weaknesses and then design a specific personal exercise program for you to maximise performance and minimise the risk of injury. Remember there is no substitute for good preparation.
"And remember, if you don't starting skiing/ snowboarding this year, you'll be another year older when you do." (Warren Miller).
See you all out on the slopes!