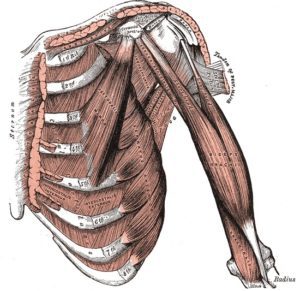 There is constant dialogue in regards to effects of surgery verses conservative therapy for the management of many musculoskeletal conditions. One such area is the shoulder. Shoulder pain is common in the general population and is one of, if not the most common cause of upper limb and neck complaints. Shoulder pain can be due to an acute injury such as a torn rotator cuff muscle or fracture, or a chronic condition such as an overuse injury. Additionally, shoulder pain can arise due to dysfunction within the joint itself, or in combination with the actions of the muscles that work around it. It is also important to note that shoulder pain can be attributed to dysfunction or disease in other areas of the body and that it is a combination of these factors that makes treating shoulder pain challenging.
As shoulder impingement is the most common cause of shoulder pain there is plenty of interest in its management, and with this interest, comes research.  Shoulder impingement encompasses an array of shoulder pathology that ultimately lead to pain and dysfunction including bursitis, rotator cuff tears, and tendinopathy. Many studies have been performed to examine the best practice for managing shoulder impingement, so that the most beneficial treatment can be administered. A systematic review of the literature on this topic came to the conclusion that there is no evidence that surgical management is better than conservative therapy, and that there is a moderate amount of evidence that the effect of both is equal(1). You may be asking what does this mean? Put simply, surgery will not fix your shoulder pain any more than visiting a practioner that provides the correct care. With this information comes the recommendation that surgical management not be the first course of action in treatment of shoulder impingement, but instead, the lower risk, less costly and proven effect of conservative therapy be implemented.(1)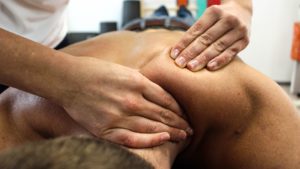 So what is conservative therapy and what does this mean for those with shoulder impingement? In the particular review above conservative therapy included treatment that involved exercise prescription, manual therapy, education or other comparable treatments such as dry needling for example.  Physiotherapists and osteopaths are trained to systematically assess, diagnose and treat shoulder pain, especially those with shoulder impingement. They apply an evidence-based treatment protocol to not only address the pain, but also the factors that caused it. Through seeing a physio or osteo, shoulder pain can be relieved, and function restored thus preventing the need to go under the knife and be exposed to the risks and costs associated with it.
Physios and osteos may differ in their techniques but at Stay Tuned our focus collectively is to help improve your symptoms, and most importantly, to also identify and address the underlying causes (the WHYs) that have led to your shoulder pain. Depending on the severity and cause of the condition patients can expect increases in strength and range of motion, as well as positive effects on shoulder pain. (2)  Treatment that involves a combination of conservative therapy modalities such as therapeutic exercise and soft tissue massage  have been found to provide better outcomes on pain and function than if either one was performed alone. (3,4)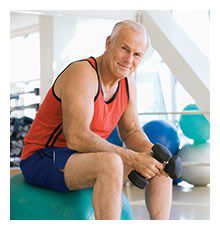 Simply, if you go to get treatment, expect to leave with exercises to do on your own if you want to get the most out of your physio or osteo.  No matter who you see, you should always walk out with a clear understanding of what is wrong, and WHY, plus a plan of treatment to help your symptoms, and address the causes. As Einstein said (paraphrasing), "If they can't explain it simply, they don't understand it well." So you have a painful shoulder and don't know what to do? Book in to see your local physio or osteo and see how they can help. Taking this first step will put you on a path where shoulder pain and dysfunction will no longer limit your ability to participate in your day-to-day life.
References
Mikhail Saltychev, Ville Äärimaa, Petri Virolainen & Katri Laimi (2015) Conservative treatment or surgery for shoulder impingement: systematic review and meta-analysis, Disability and Rehabilitation, 37:1, 1-8, DOI: 10.3109/09638288.2014.907364

Hiroaki Kijima et al., (2012) Long-term follow-up of cases of rotator cuff tear treated conservatively.2012 Journal of Shoulder and Elbow Surgery Board of Trustees. doi:10.1016/j.jse.2011.10.012

Ainsworth, Roberta; Lewis, Jeremy S. Exercise therapy for the conservative management of full thickness tears of the rotator cuff: a systematic review. British Journal of Sports Medicine; London Vol. 41, Iss. 4,

Ruedi Steuri et al (2017). Effectiveness of conservative interventions including exercise, manual therapy and medical management in adults with shoulder impingement: a systematic review and meta-analysis of RCTs. Br J Sports Med. 2017 Sep; 51(18): 1340–1347.