Every Saturday you can probably guarantee that a handful of us "lucky" netballers will come away from the courts with "twisted/turned/sprained" ankles.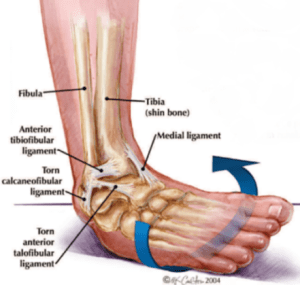 Why?
Netball is a game that involves an immense amount of dodging and quick turns. Unfortunately, these movements can put pressure on the lateral ligaments of the ankle. If we happen to overdo it and go into too much inversion (rolling in) we can actually sprain these ligaments.
Due to the nature of the healing process, if damaged ligaments will only regain 80% of their original strength. This means that the ligament will always be a little weaker.
What can we do?
Now apart from doing an excellent rehabilitation program to strengthen the surrounding muscles and improving proprioception, the best thing that netballers can do to provide stability while on the court is to tape or brace the ankle.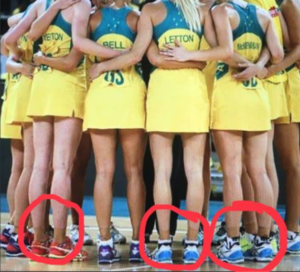 Taping
On TV you'll see that the Australian Diamonds and athletes that play in the Suncorp Super Netball League will mostly decide to tape. This is because they have access to trained professionals who know exactly how to tape ankles for the players specific needs.
At the professional level all teams are looking to get an edge. There has been some speculation and anecdotal evidence that bracing impacts function and performance outcomes. Most players will therefore opt out if they feel a brace is impacting their game.
However, a meta-analysis on 7 studies has indicated that ankle bracing has no effect on vertical jump height, running speed, agility and broad jump. (Bot & Van Mechelen, 1999)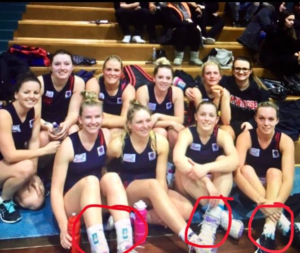 If like lots of us, you don't have access to a trainer, wearing a brace is a fantastic option.
Bracing
Like taping, bracing decreases the amount of inversion at the foot.
Another meta-analysis evaluating the treatment strategies for acute ankle sprain and CAI, showed that by just wearing a brace you decrease the incidence of ankle sprains. It was concluded that after injuring your ankle, when returning to sport it is advised that your wear a brace to decrease the chance of re-injury. (Doherty, Bleakley, Delahunt & Holden, 2016
Bracing does not lose the ankles mechanical strength. A study from Cologne Germany, investigated 17 professional male soccer players, and showed that after 45 minutes of activity, on average a taped ankle would increase from 7 degrees of inversion to a more mobile 12. 6 degrees.  (Best, Mauch, Böhle, Huth & Brüggemann, 2014)
A brace is extremely easy to put on and to adjust. If it is feeling a little loose at half time it is very realistic for us to fine tune rather than re-taping the whole ankle. Apart from that braces are cheaper in the long run, machine washable and skin friendly.
What next?
If you're reading this and thinking that your unreliable ankle might need some extra support on court, as an osteopath I recommend consulting your allied health professional about a rehabilitation program as well as potentially getting fitted for a brace.
Stay well,
Dr Verity Boyd,
Osteopath and Clinical Pilates Instructor
B.HSc. BHSc/ B. App Sc (Osteo)  
References
Best, R., Mauch, F., Böhle, C., Huth, J., & Brüggemann, P. (2014). Residual Mechanical Effectiveness of External Ankle Tape Before and After Competitive Professional Soccer Performance. Clinical Journal Of Sport Medicine, 24(1), 51-57. doi: 10.1097/jsm.0b013e31829ddc74
Bot, S., & Van Mechelen, W. (1999). The Effect of Ankle Bracing on Athletic Performance. Sports Medicine, 27(3), 171-178. doi: 10.2165/00007256-199927030-00003
Doherty, C., Bleakley, C., Delahunt, E., & Holden, S. (2016). Treatment and prevention of acute and recurrent ankle sprain: an overview of systematic reviews with meta-analysis. British Journal Of Sports Medicine, 51(2), 113-125. doi: 10.1136/bjsports-2016-096178