ITB Friction Syndrome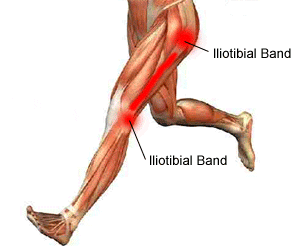 What is the ITB?
ITB or Iliotibial band is a thick band of fascia or sheet of connective tissue that starts from your hip bone (the ilium) and ends at the outside of your knee. There are two structures that connect to form the ITB and those are the tensor fascia latae (TFL) muscle and the gluteus maximus muscle. The TFL is a hip flexor muscle and the gluteus maximus is a hip extensor muscle. They form and meet at the outside of the thigh to form the ITB and continues down as one band and end on the side of the leg.
What causes ITB Friction Syndrome?
ITB friction syndrome occurs when there is repetitive overuse of the ITB. The friction occurs when the ITB slides over the lateral femoral condyle on the side of the knee.This happens due to a number of reasons mainly running or jumping or the repetitive movements, or an already tight ITB and/or weakness of the hip extensors and abductors.
What are the symptoms?
It presents with symptoms of pain, tenderness and tightness on the side of the thigh and the leg. There may be limitation when it comes to knee flexion due to the tightness of the ITB.
What is the treatment?
There are a number of treatment strategies for ITB friction syndrome. First is to identify if there is weakness in the gluteals and if that is the cause of the tightness. If there is weakness, then you can perform body weight squats, lunges or bridges to strengthen the said area. To relieve the tightness on the ITB you can use a foam roller to soften the ITB or the practitioner can use massage/ dry needling to loosen the fascia. It is also important to note other factors such as footwear, training regimen and posture when treating ITB friction syndrome. These can make a big impact when treating the condition.
Come and see one of our practitioners if you feel that you have ITB Friction Syndrome.